In the Beginning
It's now possible to find the answer to and buy almost anything in the world for girls like me. This is a tale about when Hannah visits a male to female dressing service but before the internet exploded the world was very different! There were no people to help you transform from male to female. Shops  catering for us could only be found on the back pages amongst the classified adverts of Exchange and Mart. Order a catalogue and wait for it to be delivered in a plain brown envelope. With the exception of Cover Girl in Islington there were few outlets.Not that I was aware of anyway.
There was of course the fabulous Tranny Guide lovingly prepared by Vicky Lee and the dear departed Stephan.  Such a book was a regular purchase in the bookshops of Soho. I cherish my full collection. Indeed, one year I featured in a two page article. Within the book you could subscribe to a regular or maybe not so regular newsletter, promoting the Wayout Club and related activities. This was long before GDPR I should say!
The arrival of one aforementioned newsletter carried a small ad for a new dressing service "The Boudoir" and what attracted me was the fact that they offered to make you look like a showgirl. You can imagine that ticked a few boxes.
I rattled off an email and long story short, it began an acquaintance with the wonderful Jodie Lynn and her then business partner Pandora de Pledge. Until the two of them went their separate ways they were a dream team to visit for OTT drag fun and laughter. Mind you bags of M&M's were the currency back then!. Apart they were still still the two go to people for OTT fun.  Yes I was a little more demanding of their time than others! Look Up, look down, keep those eyes closed! Sadly, Pan sadly passed away a few years ago but Jodie continues to work miracles and her Boudoir Empire includes London and LA.
The first gig: a simple makeup for me to go to the legendary Wayout Club in London. Shaved and partly dressed, a knock on the door and these two fabulous people entered my life. After a while the transformation complete and I felt fabulous even with some drama on the lashes front. Like no doubt many of you, I had bought eye lash glue that I'd opened and then closed. It was solid! Luckily some spare glue was found and I was ready to go.Here's the result!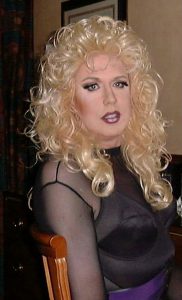 On previous visits to the WOC I'd made myself up and driven. Always love the free parking nearby! Consequently waiting outside the Thistle hotel was a little nerve racking. I got the odd look from drunken revellers returning but a smile costs nothing! Eventually a cab got me round to the club. I'd been before but this was the first time I wasn't conscious about my makeup. Needless to say I had a fab time.
Shortly afterwards I paid a visit to Jodie's fledgling studio in Wood Green where joy oy joys in a  shiny blue dress and heels the first showgirl was created.  I was in seventh heaven and a little sexually aroused! A few polaroid shots before a costume change and another vision created.
Baby Oil! How to reverse Male to Female
As what was to become an increasing habit I would leave in a leopard skin top, a pvc skirt and jacket and dainty black boots for the drive home.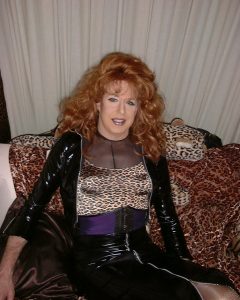 Why? Well feeling a million dollars it's always a shame to see such artistry disappear in a bottle of baby oil! That was in the day when I didn't need glasses to drive so Hannah happily drove through north London to the leafy suburbs, Always great fun and thankfully without incident and on a couple of time I stopped to fill up the car with fuel. Just a quick £20 top up and a huge boost of adrenalin.
From that tentative first visit I became one of Jodie's regulars, doing all sorts of shoots in the photo studio with her Dad behind the lens. Jodie would help my wild ideas come to life. We put together an impressive catalogue though some of the poses that I managed in a corset still make the eyes water. It was the fabulous Jodie who put me on the cover of Repartee magazine but more of that in another blog.
Fast forward a few years and back to the Thistle hotel. By now however outfits were made by the fabulous Sarah Lloyd and I felt a million dollars in my new Shania Twain outfit. This time no need to wait patiently in the hotel foyer. I strode out in my leopard boots and hailed a cab on Tower bridge! Not sure who was more surprised the taxi driver or others crossing the bridge. At  just under seven feet with heels and hair I had no problems getting a lift! Around to the WAC for another fun night. Don't be stupid: you know I love ya!
Visit her Male to Female Dressing Service
So that was Hannah's first visit to a male to female dressing service. Since then way back in 1999 Jodie's helped many people explore their feminine side and help fantasy become reality. Jodi was one of the first and though others have come and gone, Jodie remains the go to person. So pay her a visit and like me you will not be disappointed even though sweet innocent Hannah has moved on a bit!!
Summary
These are early days in Hannah's blogging world so if you found the article useful, interesting or want to go from male to female, please share or leave a comment down below or say hi on Twitter.