Where did it start
Meeting professional dominatrix Madame C for the first time at DollCon way back in 2014 was wonderful. It was an event for: Living Dolls, Female Maskers, Mistresses, Maids, Transsexuals, Cross Dressers, Rubberdolls, GG's and their friends, Though the time together was too short little did I realise how my life would change some years later when I chose to visit a professional mistress in 2017.
Experience
Previous boyfriends and girlfriends had awakened my interest in BDSM and the dark side. so I have a reasonable amount of experience. For example, I have reasonably good O & A levels, have been wrapped in clingfilm, duct tape and generally restricted and bound. I am comfortable with leg spreaders, cuffs, chains and related paraphernalia. In addition, I am comfortable with blindfolds, sensory deprivation, have been suspended but never upside down and am generally like having my body used and abused.
All well and good but why a professional dominatrix?
Looking back it's hard to remember but I'd taken to twitter in a big way and following a lot of boys and girls some of who posted pictures with a professional dominatrix. I was intrigued. I wanted more so as with anything you ask around, hear about past experiences do some research etc. Finally I sent an email:
Always be polite with a Professional Dominatrix!
Hi Madame C
We met briefly back in 2014 at Dollcon in London, though sadly you had to leave early.
It's short notice but sometimes these things always are. Would love to spend some time transformed into your latex pet. 

You will see from twitter and fetlife that I'm from a broad church with kink & glam featuring equally. I feel that you as a professional dominatrix would bring out the best of both in me as you take contol of my mind and body.
Either Wednesday late afternoon/evening or Thursday would be ideal though appreciate it's short notice and I'm guessing that two hours would suffice though be guided by you.
If you could reply that would be awesome and I can then call to sort a few more details.
Look forward to hearing from you and bends knee in anticipation
Feelings!
Was I nervous writing it? You bet!
Did I think twice before hitting send? Yes!
Did your heart miss a beat when you received a reply? Absolutely!
We arranged a call and I nervously dialed the number with heart beating a little faster than usual. On the telephone Madame C was charm personified and already I knew that she would be a lot of fun and time was duly booked in the diary.
Always be prompt!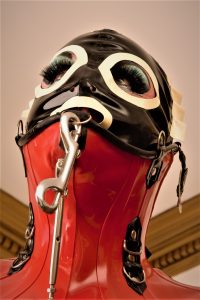 Knocking nervously on the front door I'm shown by her maid to a room. I hear the clatter of heels on the solid wooden floor and voila!. Madame C was everything I  dreamed about. Though my mouth was dry we chatted about what made me tick and what I expected. She'd looked at Twitter, done her homework and so knew a bit about me, To cap it all she marveled at how tall I was and did everything to relax me.
It was a glorious first two hours with me not knowing what the journey involved.
Summary
Afterwards I posted a few pictures on Twitter and sent this email:
Well it's gone a bit mad on twitter so that only goes to prove how awesome you are.

 You are simply divine.:You made me so welcome and relaxed on arrival and then gave 100% to our session. I loved every minute and could have stayed for hours such was the pleasure you gave along with a bit of pain.

As I explained that was my first visit to a professional. Yes I had some trepidation but it was wonderful. Everything you did was divine and yes I will return!!!
And return I have: many times. I will share further stories about professional dominatrix, Madame C on here for believe me sending that email was one of the best things I've ever done in my kinky life