ThI love the doxy! But what's a doxy I hear you ask?
Well, according to the urban dictionary a doxy is a floozy or prostitute, a lady of the night!. That may well be the case. For me though it's the most amazing bit of kit in my ever growing collection of sex toys.
What is a Doxy?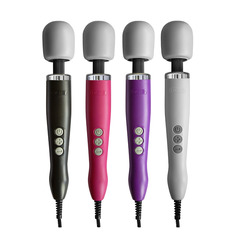 Quite simply it is the best magic wand massager around, Choose from three and they are available in various colours. Whichever model or colour you choose because in my humble opinion you will then own the premier wand massager.
For my first encounter I find myself strapped to a medical chair,  What is that gentle humming noise? i feel the vibration around the groin. The sensation is unbelievable and the reaction non too shabby either. Apply to different parts of my groin for a variety of reactions. On the tip of my fella the doxy works its magic and the mouth opens just like that!  Since then a doxy is never far away when I'm out for fun or at home. Listening to that gentle humming sound is divine. Sooner or later pleasure awaits! I've even treated myself to one for fun when alone. Get two mistresses together each armed with a doxy because the fun simply doubles!
It's a really simple bit of kit!. There are no moving parts to worry about. No options to change and confuse you. As a result, it's a simple vibrating tool proving endless hours of fun. Unlike an electric drill because a Doxy is so well made, vibrations don't travel up your arm and the handle remains easy to control.
How to use a Doxy?
Some simple tips to bear in mind when the new toy arrives:
Plug it into a suitable power socket and briefly press the power button.
Vary the speed using the buttons marked with the positive and negative symbols.
Use the massager at the lowest setting to start and gradually build the speed up to your desired level.
In a circular motion move the massager head slowly in a circular motion on the skin. Depending on the part of the body some lubrication may be needed!
Avoid leaving the massager head in one area for an extended period.
Let the toy do the work: heavy pressure will not produce a heavier massage
Good Vibrations
The vibrations start with a gentle huming and you can then increase the power to full blown electric drill mode. Use it  to warm up and tease any erogenous zone  ready for future fun. Fun with your partner or simply lie back with the doxy in one hand and play!  It's so easy to use with just three buttons On/off, up and down.. So simple that you can even use blindfolded to increase the kink factor.
Some people like to use the  pulse setting. Turn the massager on by pressing and holding down the on/off button for three seconds. Release the power button and wait. Feel the vibrations accelerate from the lowest setting to the highest setting. Use the positive or negative button to vary the pulse frequency You can return to the regular setting by turning off the massager. Turn it back on again by pressing the button.
How to get the best results?
I've told you above how to use it and in it's vanilla useage it's great but I always like to add a bit of kink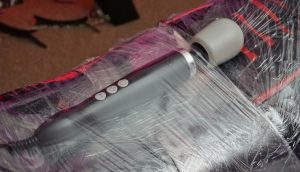 From personal experience I can highly recommend being tied up or bound as that will heighten the senses. Wrapped in clingfilm and tied to a bench is one of my faves but ropes work or simply get strapped to a medical bench. Assuming of course that you've one in the garage, Without the ability to escape, submit your body to the constant humming and pleasure. You will always have the ability to shout stop. Unless of course your partner gags you in which case you need to think about other ways to convey stop.
A good play partner will understand and remove the need for an embarrassing call to the hospital! Be safe it goes without saying.
Which one should I buy
The Doxy comes in three formats and various colours.
The Doxy Die Cast Massager, Mains Powered Massage Wand
Newish to the market Doxy Number 3 Mains Powered Wand Massager
I've number 2 in the list but I've experienced all three and all give that unbridled rumbling pleasure. So it's down to personal taste for colour and budget for the model. Every Doxy comes with a plug top power supply so it can be used all over the world. Don't forget the travel plug ,
Safety
It's easy to get carried away with your new toy but without sounding like your Mum , allow me to share some simple safety tips:
Do not use a Doxy Vibrating Wand Massager if you are pregnant, under the age of 16, nd if recently undergone surgery
Avoid drugs or alcohol though personally a little drink helps!
Play like this will raise the blood pressure so avoid if known heart problems
The Doxy is for external use only!
Summary
If you own  a Doxy then you will know the fun and share my enthusiasm. If not then I hope this blog has encouraged you to add some sparkle to your life either alone or with your partner or partners. To your continued fun in the bedroom.
Please leave a comment if you can or if not please come say hi on Twitter or come see more of the Doxy in action here