Since I first stumbled across a vacbed video on youtube I've always been fascinated. I wanted to try one but strangely it's not that easy but I was determined to answer my question what's it like in a Vacbed?..
So what is it?
A vacbed or sometimes a vacuum bed but the same thing is a device used in BDSM play.
A person, in this case me, is placed in a latex envelope spanned by a frame attached to a suction pump.  More likely it will be a good old fashioned hoover/vacuum cleaner. As the hoover is turned on so the hoover removes most of the air within the frame. It leaves you  essentially vacuum packed. The construction frame will be either a simple rectangle of pvc pipes wood or any combination so long as it provides some rigid frame for the victim or beneficiary.
Breathing is not compulsory but helps!
There are several ways that the vac bed is designed to facilitate breathing. The most common is a simple tube running from outside of the vacuum bed into the person's mouth. A second option is a simple hole that fits over the mouth. This is what I had here
The vac bed is both provides both bondage and heightened sensations. Given that you are unable to move, speak or see your senses are deprived. You are at the complete control and mercy of the person with control of the on/off switch.
The sensations are then heightened by stroking or when vibration toys are added. The feelings being more intense  simply because you are unable to go anywhere.
Needless to say the vacuum bed must be used with the aid of another person to prevent serious harm to the user!
How did it happen?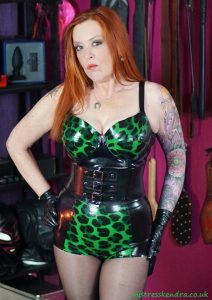 As with most things in life it started on Twitter. I'd long since exchanged messages with  Mistress Kendra from Bradford and her fab bestie Sarah B and felt the time was right for a visit to Bradford.
We'd never met before so as always there's plenty of trepidation as you knock on the door! Sarah was away at her day job but Mistress Kendra invited me in and up to the chambers. It was per the website, dark, foreboding and yes promising fun. After a brief chat about life and expectations I was asked to undress while MK got ready.
A suitably attired mistress appeared and the ritual began.  First I was dressed in latex for various pictures and then the vacbed appeared. It looked fab but my little heart was beating faster as I took off my shoes and wriggled my way it.
What's it like in a Vacbed: STOP!
It was going well and I was almost in to the latex sack. Then it was time to lift the latex over my head and seal me in. I freaked! STOP. No other way to describe it: I just couldn't pull the latex over my head and secure myself in. Her dulcet Yorkshire tones and gentle caressing brought me back to normal and I had a choice. Go or stay. I really wanted it but could I face that fear again. YES! MK pulled the latex over and once my mouth found the hole and I knew I could breathe I was fine.
A few moments of suction to start and then relaxing as the air returned. the sensation was everything I dreamed of: intense, scary and deeply erotic! As the periods of suction got longer so I enjoyed it more! At the end she had to force me to get out. I even had the mind fuck of MK leaving the room just leaving me there to stew!
More!
There was more to follow as once removed it was time for her trademark legendary and infamous strapon treatment. The eyes watering it  concluded a wonderful two hour session but more of the strapon training in another blog.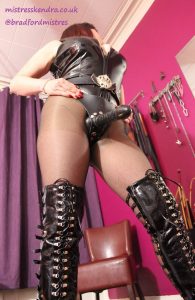 Have I been back? Oh yes and I've plenty of tales from the House of Doom!
Please like share and comment and if you ever want to experience a Vacbed well you now know where to go