Introduction
I have always wanted to own a pair of big fake boobs. No female impersonator who does the fabulous Dolly Parton would be without a pair. So for me to create big and curvacious this was something I needed to add to my wardrobe. I own a pair from Femskin which are great. However as the whole breast plate is silicon, you do tend to get mighty hot. Masking makes it's even hotter so the time was right for an investment.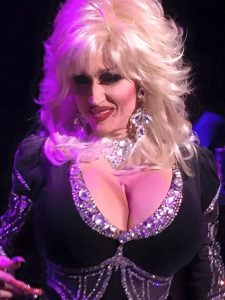 Googling fake boobs a few suppliers came up. I spoke to the great Kenneth Blake who is IHMO the best Dolly Parton around for his ideas. I met him once in Vegas and he is such a wonderful person. Anyway long story short his come from a firm in the USA and the best priced ones came from Russia. With currencies and customs there was not much in it but I went behind the old iron curtain.
Delivery
At the time I was using the address of the fabulous Madame C as a PO Box and these arrived during that period and once customs duty had been paid they were in her possession. Spookily they arrived about two weeks before I was due another visit to the pleasure dome in Farnborough. Even better this time we would meet the wonderful Mistress Meena.
Two Mistresses
Like so many we had chatted on Twitter but now I had a full day with these two wonderful women and what a fun day it was to be. Plus we got to play with my new big fake boobs.Please note that speed and no other for the rest of this blog Mistress Meena will be MM and Madame C, MC. It makes it much easier and I'm sure that you will follow
MM opened the door and we said our hellos and started chatting about life, mistresses and cauliflowers. Joking! Soon Madame C appeared and as ever her kinky imagination had been working over time and she'd put together a very devious story board.
What was to make this even more fun was that we had a professional photographer in. As a result MC and MM could just concentrate on administering pleasure and pain and not necessarily in equal measure.
Wearing Big Fake Boobs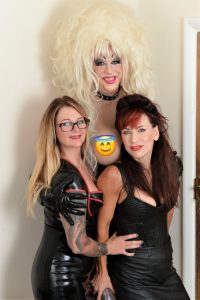 While MM painted my nails and we talked stuff MC finished off the last few minute preparations and then it was time for makeup. The duo soon had created the image they wanted and then it was time for the big fake boobs. They were everything I had dreamed about, heavy, large OTT and just perfect for Miss Mannah. Squeeze tightly into some more latex, add hair and we are off. As ever I have no idea where this journey would take me!
Even with heels both MC and MM look a little small once I've heels and hair and it contributed to a fab mini photo session before I was escorted to the medical room. See what I mean about height contrast! I was allowed some apple and banana for lunch before the fun started, firstly in the medical room.
Medical Room

Since first meeting MC I have grown to love and enjoy the medical room though familiarity breeds contempt! Settling down with my big fake boobs pointing north I became alarmed at the presence of shaving foam and razors. I've been shaved before but never while restrained and teased with a doxy! It was unbelievable sensual, All the while as MC & MM chat away and tease me I was being filmed and photographed
The Cube
Shaved and oven ready with an electric butt plug for future fun I was taken to the cube: a kind of #kinky toy box where everything is catered for. Strapped onto a bench and then wrapped in cling film MC & MM started again with those magical doxy wands teasing out fluid for to swallow along with a good sucking of hard cock. It was heaven but it got better as the milking machine was rolled into place.
It was divine but interestingly for me was the way that MC & MM worked seamlessly together. Like a well drilled team they could see what was happening to my body where to go next to add pleasure or pain. As one denied me breath so another would take away that fear with some pleasure resulting in the most amazing climax as I then eagerly sucked my cum off the false cock . All the while Steven Spielberg was in the background taking pictures and filming!
More fun in the Cube
An intense and fab session but they were not done yet! After a brief rehydration I it's time to strap me to yet another piece of equipment. Estim and further Doxy treatment will leave my poor body spent but oh so happy
Time to rehydrate, remove the make up and layers of latex and head for a refreshing shower. Back in drab mode we shared a cuppa and laughed at how the day had gone. Hugs all round and time to return to my other world. a truly fab day. Great to meet MM and welcome her into my life but do you know what the best bit was! MM & MC are great pals and had such fun during the day so that all three of us really enjoyed the day so much.
Needless to say pay either or both a visit and they deffo both come with Hannah Mannah's 5 Star approval
Want to see more of my Big Fake Boobs?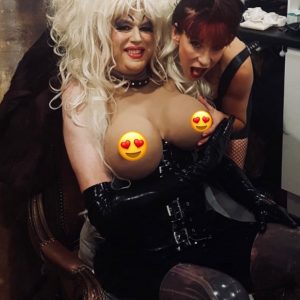 Some of the short clips are on my twitter feed. For the slightly racier and extended videos you will need to nip across here. So another tale in my life which I hope you found interesting. Should any of you have questions or comments please add below or just come over and say hi on Twitter