Introduction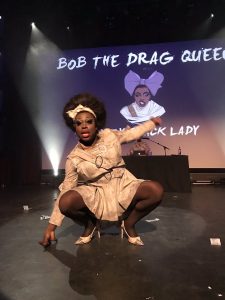 Bob the Drag Queen: what's in a name? Bob was the winner of Season 8 in the ever popular US show RuPaul's drag race. I'm sure you've all seen it. If not RuPaul's Drag Race is an American reality series. A simple format documenting RuPaul's search for America's next drag superstar.
RPDR
In it contestants are given various challenges each week all related around drag. Ru Paul along with other guest judges critique contestants' progress throughout the competition. It's a competition that gets ever more fierce and divides opinion. There are those who came up in the drag world  the hard way, working clubs and bars. Some resent the almost instant stardom afforded to some in the show. These days the winner has to work her butt off. No sooner have they won than it is a round the world cruise. Another view is hey life moves on and shows like this showcase the art of drag. A much wider audience now get drag so it's to be encouraged.
In the UK
Living in the UK there's always a delay before I can enjoy each episode. It's always worth the wait either through one of the more less watched channels or Netflix. Yes I have my faves but this is about drag names and yes why Bob the Drag Queen. Confession time I'd never heard of him before the show. As it progressed I began to love him more and more. He was a worthy winner even though the odd name!
Alex or Alexis?
To be honest Queens can and do call themselves what they want. Bob just seemed a little odd at first but it's cool! There are no end of ways that you can arrive at your drag name or female persona. Some can simply create the female version of their male name. Alex can become Alexa or Alexis though a female version of Kevin might be hard to sort! There are all sorts of websites that help you generate a name after asking loads of silly questions. In addition there are some simple infographics where you can create a name by looking at the month you were born the first letter of your first name and last name. According to Popbuzz that would make me Lady Summer Filth. In the UK using phrases from the the great British Bake off I think I was Buttery Baps . Though very appealing to be honest I'm very happy with Hannah Mannah.
So why Hannah Mannah?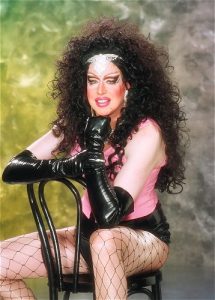 Well I started out as Fiona because that was the name of my first real girlfriend and not someone I simply had a crush on. For whatever reason it didn't feel right. Now I'm not sure what a Fiona feels like but it didn't feel right so I changed it.  It was at my first visit to the Boudoir that Hannah came to life. Jodie explained that I should take the name of your first pet. Our first dog was called Hannah and it felt good: indeed still does. The Mannah bit came much later when for reasons that escape me I was doing some emergency repairs in full femme mode. Jody said Miss Hannah Mannah: handy with a spanner! I was thinking more Mannah from Heaven and it stuck! It's been around for a wee while now and as you see finally manifested in a website.So Hannah Mannah is relatively easy to arrive at.
Why Bob the Drag Queen?
How amateur or professional drag queens choose a name will give a few clues about them as we shall find out. Now I love drag because of the heels, the heavy makeup, and the ability to slay (in this case amuse or delight, not kill) on stage! Drag queens are mostly known for their wicked sense of humour. I personally don't want to see a queen that isn't in some way funny, and they have to be able to make me smile and often that will start with a name!
Drag has been around for ever so there's no shortage of names for inspiration but at the same time you're your own queen so you want something unique. In drag terminology fishy is complimentary term used to describe a very convincing and feminine drag queen so some look to combine fishy and sexy. The winner of the last Celebrity Big Brother series was Courtney Act; a simple play on the words 'caught in the act.' Farrah Moan is one that makes me smile while some like Chad Michaels probably use their own name and while there's nothing feminine about the name his performances as Cher is just awesome. In a previous blog I've talked about Kenneth Blake: nowt fancy but a mean Dolly Parton and Madonna impersonator.
Naughty and funny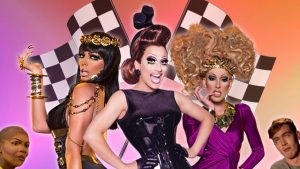 Finally some drag queens choose names that not only captures a queen's character, it leaves you in stitches through the use of innuendo and puns. Ginger Minj or Penny Tration don't leave much to the imagination nor Ophelia Hotass or Ophelia Balls. All designed to make you smile, Then they can challenge you: Anna Bortion, well yes Malestia Child challenging and you need to be very good to pull that off, Lucy Stoole,  Penny Tentiary or Avery Goodlay. Some more out there than others but all designed to entertain and yes more increasingly shock! Go big, go outrageous or go home!
Summary
So whether you want to be the next Bob the Drag Queen, take a pageant by storm or simply grab a name to use on Twitter grab yourself needs a memorable name.and above all have fun. Should any of you have questions or comments please add below or just come over and say hi on Twitter