Introduction
I love thigh high boots: there I've said it! However I'm constantly asked: Thigh High Boots: what's the attraction? So let me share why I love them with you in this my latest blog.
As a young boy they created intrigue, Unbridled joy as I buy my first pair as a teenager.. Since then I've added numerous pairs to my vast collection of shoes even though i know that you can only wear one pair at a time! Off the shelf, red, black, custom made they are a welcome addition to any wardrobe. In the case of designed bespoke boots they make quite a dent in the kink budget. But as they say Hey I'm worth it!!
A bit of history
Followers of history and particularly Queen Victoria will know that laced leather boots became fashionable during the Victorian. That was for women as men were to follow a little later! Towards the end of the 19th century, London prostitutes started wearing them as a means to attract clients. Plus ca change. The fact is men find women in boots particularly up to the thigh sexually appealing. Thigh high boots as articles of fetish clothing date back to at least the 1950s. This was when they were used by the photographer Irving Klaw. Since that time,they frequently feature in fetish and adult photography.
Kinky Boots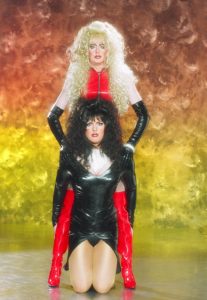 So what about my interest? It's been a while since Honor Blackman and Patrick Macnee got to sing about "Kinky Boots," This was also a long time before the hit musical boosted "Kinky Boots" to the top of a google search! The song  was to be my first introduction to the word kink. Did I know what kink or kinky stood for? Nah but hey I was only young and happily sung along all innocent like!
As a child listening to Mum's 45"single records who knew what path Hannah would follow. What's a record I hear some of you ask but that's for another story..
The Avengers
Then of course there was the Avengers as the wonderful  Honor Blackman starred as Purdy in leather and boots. Joy of joys she turns up in the Bond Film Goldfinger as the wonderful named Pussy Galore! This young child was in seventh heaven: aroused at an early age by heels and leather! Where on earth could this end?
As a young boy I've spoken of the joy of pantomime. Luckily no principal boy worth her salts would not at some stage don a pair of thigh high boots and slap her thigh. So another seed sewn at a young age
Thigh High Boots: three key benefits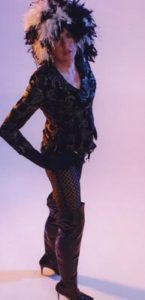 Most girls and girls like me (boys who like to be girls) just love heels and thigh high boots!
Yes you can buy flat boots but for me all good thigh high boots must have a heel! So assuming that the thigh boot has a heel and frankly why would it not, the boots quite simply help create shapely legs. They accentuate the calves, the thighs and buttocks. Three key benefits! .Unless of course you're Jack Charlton who though having long legs they may be a long way from shapely!
Nancy Sinatra
We all know the song! She was right! These boots are made for walking. In addition, walking in high heeled thigh high boots lengthens the stride. For girls and to a lesser extent girls like me this leads to a more swaying and thus sexy action when you walk. Earlier I mentioned how prostitutes use them to attract men and to a creating that tart appeals with such wonderful boots caressing your thigh.So speaking personally they make you feel sexy . Elegance is another benefit once you've mastered walking in heels!
My eye is drawn to the length of a woman's boot and thus length of leg. As a wearer I love the additional height they can create and the fact that it causes people to look.at me!
Finally they accentuate the shape of legs, especially slim legs. So that's another reason to grab a pair.
Empowerment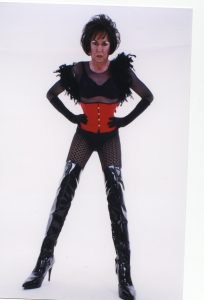 There is no two ways about it! Thigh high boots create empowerment for the wearer. With six inch heels they will make you taller and naturally more confident.
Thigh high boots are seen as perhaps the most popular fetish attire whether you are the dom or the worshipping sub: a topic to be explored further. So It will not have escaped your attention that there's a natural connection to BDSM. By no means is it a requirement but mistresses use heels and thigh high boots to emphasize that power to enable them to dominate their subjects.
Thigh High Boots:How high?
Well thigh high obviously but what a bout the heel! The bigger the heel the bigger the thrill but practicality suggests starting low and build up! We all grab the biggest weights in the gym and then sheepishly drop down a few! Here pride deffo will come before a fall. Blokes in fact girls as well are not supposed to wear heels   so take it steady, learn to balance, walk and then the sky really is your limit. So let's go girls!
Black or red? Well that's always down to personal choice and in later blogs I'll share some of my fave boots and suppliers. .
Summary
As a guy I love women wearing thigh high boots and as I guy who likes to be a girl I love them even more! Please share with me you thoughts on thigh high boots: like or dislike red or black. Please leave a comment down below or come say hi on Twitter